AR-15 Pistol Upper Kit | No:27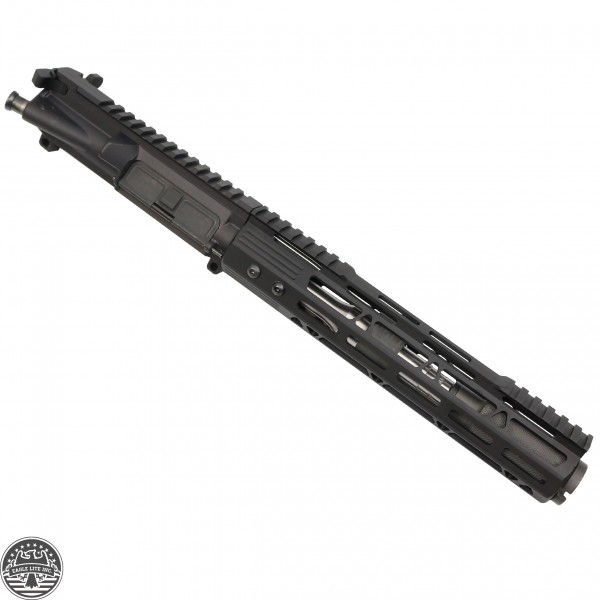 ** THIS KIT DOES NOT INCLUDE BOLT CARRIER GROUP **
** KITS CANNOT BE CHANGED, NO MODIFICATIONS WILL BE ACCEPTED **
Material: Aircraft grade 6061 aluminum

Internal Diameter: 1.39" wide and 1.67" high

12 o'clock location has only 2 M-LOK sections

Top rail has 7 slots or 2.9" section of picatinny on the beginning and 6 or 2.45" slots at the end of rail, the rest of the rail is skeleton cut with 2 M-LOK sections for perfect customization.

Finish: Black and hard coat type III Anodized

Barrel nut material: Steel

6 screw fastener design with proprietary screw for easy installation.

Flush fitment on receiver

Spanner wrench needed to torque barrel nut to spec (not included) and hex wrench.

All rail sizes do come with two 3 slots M-LOK or 1.58"

Also included is two washers if needed for timing on all rail sizes.
---
Finish: Raw Stainless Steel

Gas block diameter: .750"

Pistol length with a gas hole diameter of 0.076
---
High Quality and lightweight stripped Upper receiver (does not include upper parts).

Material: Aircraft grade aluminum
---
Replaces your missing or damaged ejection port cover on your AR-15 Rifle
---
Includes:
---
Specifications:
Fits .750 diameter barrels
Color: Black phosphate finish
Material: Stainless Steel (Optimal heat and corrosion resistance)

Mil-Spec Dimensions (consistent gas flow)
---
6061 T-6 Aircraft Aluminum

Smooth Operation under extreme conditions
---
Inner Cone recycles gas pressure into action for efficient cycling in SBR'S and reduce muzzle flash

Includes: Canister housing and serviceable cone

Large dampening baffle cone

---