16'' 300 AAC Carbine Upper Kit | No:19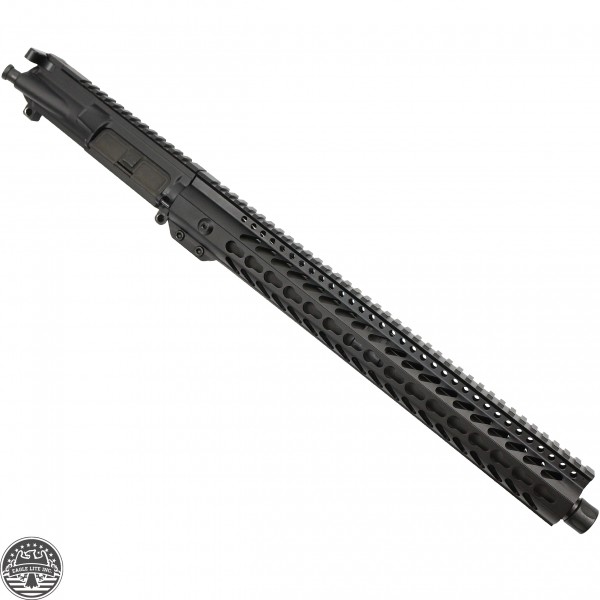 ** THIS KIT DOES NOT INCLUDE BOLT CARRIER GROUP **

** ASSEMBLED UPPER & TEST FIRE MAY TAKE UP TO 7-10

BUSINESS DAYS TO PROCESS **



** KITS CANNOT BE CHANGED, NO MODIFICATIONS WILL BE ACCEPTED **
Specifications:


Constructed of Steel

Set screw mounts

Fits .750 Dia Barrels


Color: Black Phosphate finish

---
This 308 thread protector will protect your threads if you plan on going without a muzzle brake/device on your rifle.
Features:


Fits 5/8X24" threads Pitch

Knurled for quick, tight and tooless use

CNC Machined High Quality steel

Heat Treated

Solid Machined Construction


Parkerized Finish

---
Made in the U.S.


Material: Stainless Steel (optimal heat and corrosion resistance)

Mil-Spec Dimensions (consistant gas flow)


Length: 9.75"

---
High quality and lightweight stripped Upper Receiver (does not include upper parts).


Material: Aircraft grade Aluminum


Finish: Black Anodized

Machined from 8620 tool steel

Heat treated to military specifications

Machined from 9310 tool steel

Heat treated to military specifications

Shot Peened

Ground to meet military required tolerances

MPI (Mag Particle Inspected)

Machined from 4140

Heat treated to military specifications

Machined from 4140

Heat treated to military specifications

Shot peened

Machined from 8640 tool steel

Heat treated to military specifications

Ground to meet military required tolerances

Coated with .0002"-.0003" of hard chrome per MIL-STD-171 1.2.2.2

Machined from 4340

Quench and temper heat treat

Ground to meet military required tolerances

---
I
ncludes plunger

forward assist pawl

spring


retainer pin
---
Ejection Port Cover Door


Steel Spring

Steel Rod

C-Clamp


Replaces your missing or damaged Ejection Port Cover on your AR-15 Rifle
6061-T6 Aircraft Aluminum Body with 7075 Latch

Smoothest Operation under Extreme Conditions

Includes: Handle,latch,pin and spring
Fits: AR-15 Rifles
---
Chambered: .300 BLK (AAC Blackout)

Carbine length with enhanced gas port hole diameter.

4140 gun quality steel, heat treaded to RC 28-32 hardness, stress relieved

Each barrel is made to precise specifications and designed to hold a 1.000" MOA at 100 yards with appropriate ammo and shooting techniques.

This barrel carries the same tread pitch as the AR-10 barrels 5/8x24 to add a muzzle device.
---
Material: Aircraft grade 6061-T6 aluminum/locking
Length: 10", 12", 15"
Keymod location: 3, 6, 9, 12 o'clock location
Top rail has full complete pica-tinny rail.
Finish: Black annodized
Barrel nut material: Steel
Clamp on design with proprietary screw to lock on the rail to the barrel nut.
Flush fitment on receiver no gap
Spanner wrench needed to torque barrel nut to spec (not included) and hex wrench
This rail does not come with keymod section, sold separately